I got to see Kwannogamyonguk, the masked pantomime dance. There was a man (Yangban, or the aristocrat), a woman, two good spirits wearing grey costumes with hula hoops (Sisitaktaki, that is, "those who prevent misfortune") and two evil spirits wearing black (Changjamari, or "interrupters"). Now there's another example of how the Korean government differs from ours. They consider the country's traditional religions to be part of its folk heritage. Even though the Korean constitution guarantees freedom of religion, the government doesn't necessarily shy away from getting involved in preserving traditions just because they're religious. All the actors in this pantomime were government employees.

They all danced around. The good spirits kept ramming each other with their hula hoops until they both fell down (several times), and the man kept trying to kiss the woman, who would push him away and then turn her back on him and titter.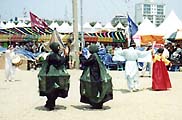 After a few dozen rejections she finally accepted him, and they danced arm in arm. The good spirits imitated them on one side, and the bad spirits imitated them on the other. Then the spirits all started butting in, chasing the man off and dancing with the woman. He'd come back, hit the spirit with his fan to make it go away, and another one would take its place. Finally he had had enough of that, and (all in pantomime remember) yelled at the woman for consorting with the spirits.
Well, it happened a few more times. I never figured out if she knew they were spirits or not, but I got the impression she didn't have a lot of choice in the matter. Either the spirits made her do it, or she thought

they were the man. Anyway he caught her with them again and hit her and rejected her. (Sorry guys, but Korea's still that kind of society; probably have Confucius to thank for it.) [Korea's sexism is generally ascribed to Confucianism, but it's hard to be sure how much is Confucius and how much is Yul Guk, Korea's revered Confucian scholar. Here's a page which discusses this a bit more. -ed]
She begged and pleaded, but he kept turning his back on her, so she hanged herself. In the mime she actually wrapped his long beard around her neck.
He didn't notice she was dead (remember he had his back turned on her), but the spirits did. They lifted her arm and let it fall, and listened for her heart, and then did it again and again, probably hoping they were wrong. The game obviously went farther than they had planned. Finally the good spirits went and got the aristocrat and dragged him over. And he went through the same routine. There was much weeping and wailing and gnashing of teeth.

Then the man went and prayed to the mountain god (a mock-up of the tree at the altar). The tree began to shake mightily, and went and danced around the woman and leaped over her a few times and went away. Then the man went and shook her and she came back to life, and they danced happily together, and the spirits danced happily together.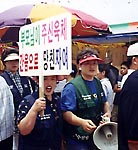 All through this obviously very pagan performance we had more Christian protesters. They weren't as bad as the real looney tunes earlier, but were still pretty obnoxious, especially the guy with the bullhorn. He had one of those arrogant holier-than-thou looks about him. There was a whole slew of this batch, most of them carrying signs in Korean, and oddly enough wearing t-shirts that said in English, "Please don't go to hell. Believe in Jesus Christ."
The other show I saw was the Nongak. It's a traditional farmers' dance stylistically similar to the show we saw in Seoul, with the huge long streamers on the hats. This had less of the fancy hat moves and more symbolism. Basically along with the fancy hat moves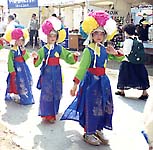 they danced out the planting, harvesting, and threshing of rice, and making it into rice cakes. The first group used props, and handed out rice cakes to the audience. I think it was a competition, because various judge-ish looking people talked when they were done, and then another group started doing their version of it.
The first group was very young. The second group was much older, with the exception of one girl who looked to be perhaps 9 or so. I guess she was there with her grandmother or something. I was proud of her. She danced through that whole interminably long dance in all that heat right in the sun without giving out.
I was pretty impressed with the other dancers, too, for that matter. They looked like they were between 70 and 90, and I can't imagine many Americans of that age holding up to that. Maybe that ginseng does something after all. Admittedly there wasn't a lot of vigorous head twirling with the streamers, but one guy had enough energy to throw in leaps and jumps all the way to the end.
I was sitting next to a very nice old lady. She saw me sitting on the ground (as many of us were, including her and many other old ladies), and opened up her newspaper so I could sit on it with her, which also allowed me to share her umbrella. They use their umbrellas to keep off sun as well as rain, which saves having to keep a separate parasol. I've considered using mine that way too, but it's just one more thing to carry and juggle around every time I want to take a picture, so I'm going with a hat when necessary (which it is at Tano).
Anyway she was very sweet to share space with me, and when her friend brought her frozen fruit juice she shared that with me too. I wished I had some way to return her kindness, but couldn't think of anything. But it was during the second incredibly long dance that my body started objecting, and we were sitting so close together (not full newspaper size -- think "small tabloid") that I couldn't squirm properly. When the dance finally ended, I thanked her profusely and wandered off.
So you can see why I bought the little folding stool when I saw it (remember back that far?).